The "Ford Factory" Project in Los Angeles Wins Sustainable Innovation Award
July, 2018
The Los Angeles Chapter of the U.S. Green Building Council (USGBC-LA) presented the 8th Annual Sustainable Innovation Awards (SIA) at its 14th annual Green Gala on December 6th. We are proud that the Ford Factory, a historic renovation and adaptive reuse project on 7th and Santa Fe that we completed construction on in December 2016, received the "Sustainable Sites" award.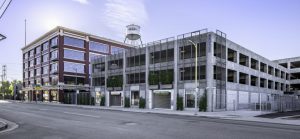 This 271,000 SF project includes the renovation of three interconnected buildings. The factory is a five-story concrete building built in 1912 to produce Ford Model T automobiles. The two-story annex building was added in 1923 and included the first assembly-line in Southern California. The third building was built in 1980s to warehouse materials. All three buildings were retrofitted to house creative office space on the upper floors, with retail and restaurants on the ground floor. The Ford Factory project is certified LEED-Gold.
Congratulations to all teams recognized for their projects in sustainable construction. It is a privilege to be in the company of so many projects that prioritized sustainability.