World's largest biotech company to move to Gateway of Pacific
December, 2019
San Francisco Business Times, article posted on Dec. 9, 2019 by reporter Ron Leuty
Amgen Inc. will move more than 600 employees into a nine-story, 240,000-square-foot building in the Gateway of Pacific project in South San Francisco in early 2022, becoming the second major biotech company to secure space in the under-construction BioMed Realty development.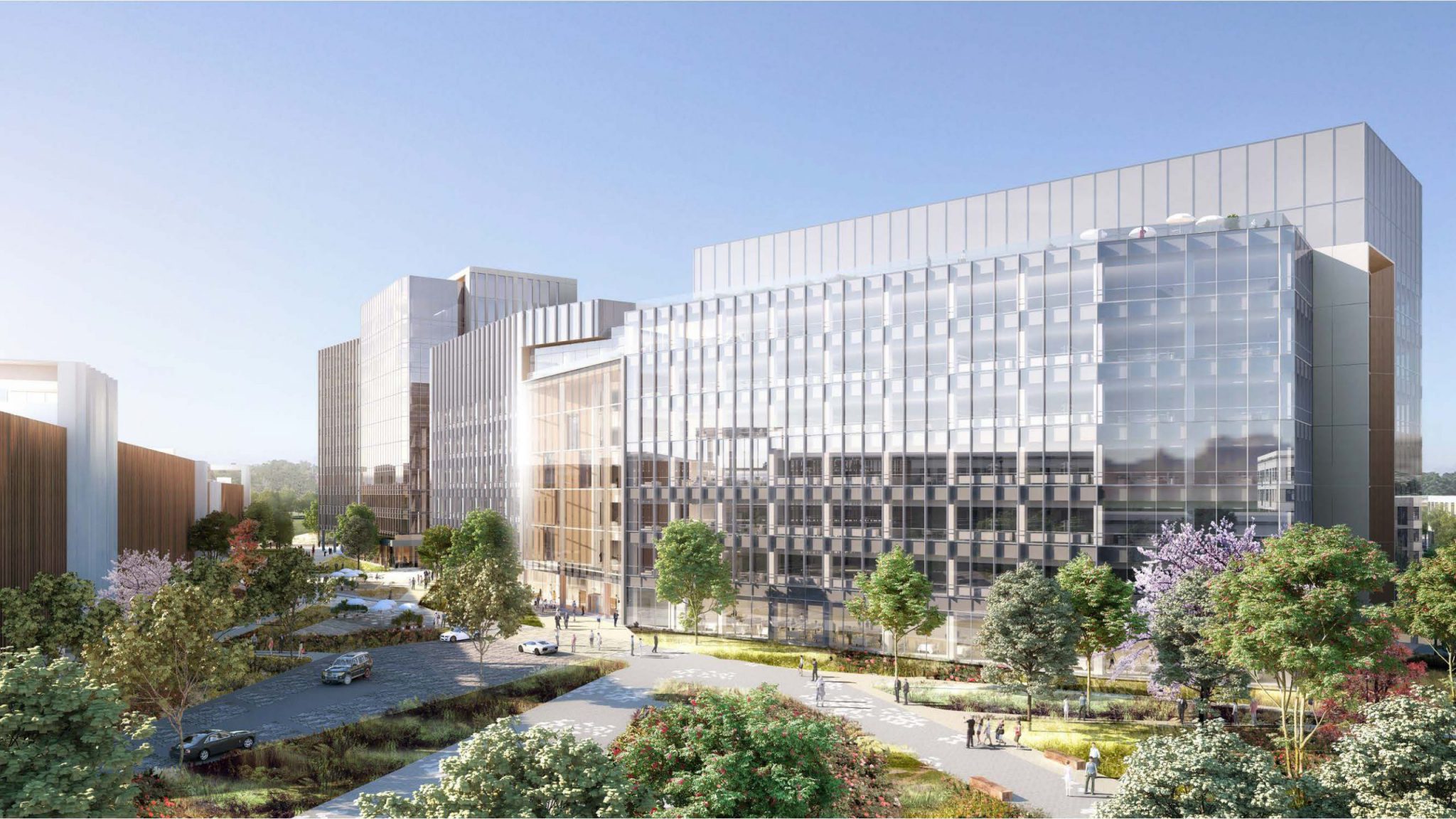 The deal caps a search of more than a year by Amgen (NASDAQ: AMGN) to replace lab and office space at Oyster Point Boulevard and Veterans Boulevard — an eight-minute walk away from Gateway of Pacific — which since 2014 has been the Bay Area research-and-development home for the world's largest biotech company.
Terms of the transaction were not disclosed, but leases in the South San Francisco biotech hub over the past year have run upwards of $65 per square foot.
The deal represents the latest chunk of South San Francisco real estate gobbled up in a building boom that has catered largely to big pharmaceutical, biotech and tech companies. Muscle drug developer Cytokinetics Inc. (NASDAQ: CYTK) and payments processing company Stripe, for example, have lined up more than 650,000 square feet at Kilroy Realty Corp.'s (NYSE: KRC) 2.5 million-square-foot project at the foot of Oyster Point Boulevard.
The deal is also a big one for BioMed, a Blackstone portfolio company, as it continues to build out the 1.3 million-square-foot Gateway of Pacific development at Oyster Point and Gateway boulevards. It leased the bulk of the 509,000-square-foot first phase last year to AbbVie Inc. (NASDAQ: ABBV) and started the second phase — Amgen's potential space — earlier this year.
BioMed in October also landed fast-growing synthetic biology company Zymergen Inc. for the former Chiron/Novartis space in Emeryville.
With Amgen, BioMed lands a company that has a deep history in the Bay Area with acquisitions and an R&D group focused on blood cancers and solid tumors as well as autoimmune, cardiovascular and metabolic disorders. The R&D team has worked on programs such as the high cholesterol treatment Repatha and the bone-mass drug Prolia.
"The new location will foster even greater collaboration across our strong scientific team, accelerate the R&D process and provide a venue for increased engagement with the Bay Area's abundant scientific and educational communities," Flavius Martin, Amgen's South San Francisco site head and vice president of oncology and inflammation research, said in a statement.
Amgen has gone big in the Bay Area before. After acquiring South San Francisco's Tularik Inc. in 2004, assuming leases that foresaw at least 600,000 square feet spread across seven buildings. It bought Fremont's Abgenix Inc. and the colorectal cancer drug Vectibix in 2005 and looked to grow its Bay Area presence. But a shift in corporate priorities and management — combined with pressure from shareholders and the recession, which hit the biotech industry especially hard — led the company to sublease three new buildings without ever occupying them.
Today, Amgen's South San Francisco center covers four buildings totaling nearly 400,000 square feet. Those structures are owned by Healthpeak Properties Inc. (NYSE: PEAK) — the former HCP Inc.
But Amgen has continued to buy more South San Francisco companies — KAI Pharmaceuticals in 2012 and Onyx Pharmaceuticals in 2013 — while contracting locally and globally. After buying Onyx, for example, it shed that company's campus on East Grand Avenue in South San Francisco and laid off employees or shifted them to Veterans Boulevard or Thousand Oaks.
In 2016, the company said it would shed 3,000 jobs in the Bay Area, Seattle and Boulder, Colo., and just last month it said it would cut 172 jobs, including 149 in its neuroscience research operations in Cambridge, Mass., after a big expansion there a couple years earlier. It said it would be consolidating its U.S.-based research in Thousands Oaks and the Bay Area.
The Gateway of Pacific space, though smaller than its current home, allows Amgen to fit the same number of people with room to grow, said an Amgen spokesman.
The second phase of Gateway of Pacific consists of 440,000 square feet overall, including an eight-story second structure connected to the Amgen space with a common lobby. The buildings — like the space that AbbVie is finishing up now, which includes a 14-story tower — look out on a courtyard that will include outdoor meeting spaces, fire pits and a 55,000-square-foot amenities center. The amenities center, which is under construction, will include restaurants, a health club and spa. The courtyard will sit atop a two-story subterranean parking garage.
BioMed also has started construction of a 350,000-square-foot, 13-story tower that marks the third phase at Gateway of Pacific. That will bring the overall development to some 1.3 million square feet.
Biotech towers — as opposed to the two- to three-story buildings that biotech companies have inhabited traditionally — are a relatively new phenomena in California. Changes in building codes and fire codes have pushed those structures skyward, and that has given Bay Area biotech tenants a chance to establish their own identities with signage and to attract and retain employees, said BioMed President and CEO Tim Schoen.
The biotech building boom has paralleled the infusion of billions of dollars into the industry via venture capital and initial public offerings. At the same time, in the Bay Area, deep-pocketed Big Pharma companies, most of them based on the East Coast, have tried to raise their profiles in order to find new technologies and new drugs that could boost their pipelines of potential drugs.
Merck & Co. Inc. (NYSE: MRK), for example, recently opened its West Coast R&D center in another Alexandria building a half-mile south on Gateway Boulevard, and Eli Lilly & Co. (NYSE: LLY) opened space for 10-15 small companies, practically right across Gateway Boulevard from Gateway of Pacific.
"There's a lot of demand out there," Schoen said.
The remainder of Gateway of Pacific could include more large companies, but Schoen said likely will include "a combination of different sizes in the project as it goes forward."
"The project's ongoing, the capital is committed, the contractors are in place," Schoen said. "It makes it easier to de-risk the decision for a corporate user."